Jaffaman Infotainment TV Episode #3 Jaffaman Infotainment TV Episode #3
The Good, The Bad & The Ugly Of Personality Marketing

In this months Jaffaman Infotainment TV, we've been discussing all things personality marketing.
So far we've covered things such as…
• Who can use personality marketing?
• What are the benefits?
• Is personality marketing for everyone?
• Should you use it and so on?
If you need to catch up on any of the previous video's on personality marketing, you can watch them here.
In this post, I promised I'd tackle the BIG question everyone has about this which is "How do you inject personality into your marketing without coming off as unprofessional or like a clown?"
Now before I answer that question, let me ask you this?
Whether it is branding or marketing the most important thing you need to grasp and operate your business, product services and marketing on it 'getting the right peoples attention and getting the to remember you' preferably for all the right reasons.
Now some in the industry refer to this as making your branding and marketing 'sticky' which makes sense because that's what you need your marketing and brand to do. Stick in people's minds right?
And I'll admit, it can be a fine line between using personality marketing in your marketing and coming off unprofessional but I think the key to avoiding coming off like a clown is to JUST BE YOURSELF and Respect Yourself!
Anyway, all that aside here are just a few of my tips you can use to inject your personality into your marketing so you can stand out from the crowd… connect and engage with people and get you started to creating your own 'stickiness'.
Tip #1.
We've all seen pets such as dogs, cats and even the odd pig in plumbers ads, vet clinics and quite a few other industries marketing so use a photo of a family pet. 
You could even go one better and create a competition to have a bit of fun and stimulate new business and engage new and existing using your pet in your marketing. As an example let's say I have a Dalmatian. I could create a competition based around the idea of Guess how many black spots Spotty The Dalmatian has for your chance to win a free widget.
Tip #2.
Let them get to know you a little by sharing your dreams or goals. For example when I launched the Jaffaman Eddie Small to Medium Marketing Club I shared with people why I created it and what I am hoping to achieve. The 'why' and 'who' is always more important to people than the 'what.'
Tip #3.
Another way to inject some of your personality into your marketing is to share with people some of the things you love. For example you'll notice with me playing guitar, surfing and so on are things I love to do. Show them whoyou are!
Tip #4.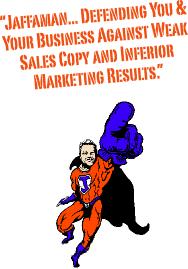 Cartoons – I love cartoons. Have you seen the Jaffaman cartoon superhero yet for the Jaffaman SME marketing Club? This is just one of the cartoons I use in my marketing and people love them! They make people laugh and engage them. They help separate me and my businesses from the herd… they show off a bit of my humour and personality and give my businesses personality so they stay 'sticky' in people's minds.
So what's the point of all this?
If we're truly honest with ourselves most of us in business want better results but don't want to do anything differently to get better results. We're being held back by fear of what others may think and are uncomfortable about leaving our conservative and traditional marketing behind.
I also think it's important to remember that people love and relate to the underdog in business and if you look at an underdog you'll see a common pattern of behaviour is doing things differently and using personality in their marketing and what's really great is social media is now letting everyone's personality in their marketing shine through.
$5,113 a month in extra back-end sales since Nov 2012
If you'd like to learn how YOU can start standing you and your business out from your competition check out what other time-poor busy SME's and Entrepreneurs have been doing in the Jaffaman Eddie SME Marketing club. 
One of our latest members has brought in over $5,000 extra sales to his existing clients in just two months but memberships not for everyone!
Check it out and have a great day!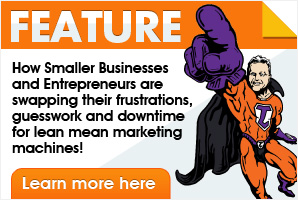 Stay tuned, stay cool
Wishing you the very best,
Jaffaman out!
P.S. Oh and don't forget to share your personality marketing tip below or follow me here.