Free Report Reveals: Why You're Not Making Money From Your Marketing.
"7 DEADLY Sins Why You're Not Making The Money YOU WANT From Your Marketing."
Dear Fellow business owner and marketer
If you're sick of spending countless amounts of money, time and energy on marketing that fails to deliver a positive return on your investment then this is the most important FREE report you'll ever get your hands on.
Reality check: Competition is rampant, prospects are more cost conscious than ever and poor sales copy and marketing costs you sales, stifles your business growth, holds up your dreams and will put a big dint in your confidence.
That's' why I wrote this report and why you need you to pay urgent attention and read this in full so you can exchange poor marketing returns for a wealth of customers that you want who are all ready willing and able to pay you what you are worth.
I know you have some marketing in place. The question is, "is it bringing in the money and customers you want?"
If it isn't and you'd like to know why and what you can do about it, grab your copy of this free giveaway report today while you can as there are only 27 copies left.
About Creative Copywriting and Content Solutions
Our passion for copywriting and content writing is our greatest strength and has carried us through since we started back in 2003. Without it, we'd have a much harder getting our customers on the first page of Google and delivering fantastic content into their hands.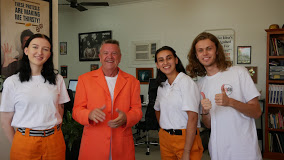 We'd like to pass some of that passion onto you and your business so you can increase your marketing returns, generate engagement on social media and your marketing conversation rates to improve your life, profits and businesses value.Plus we're the only copywriting and content writing service we know of that gives you a 100% money-back guarantee so call us now, you'll be thrilled you did.
Phone: 0412 288 339