Prevention Is Always Better Than The Cure. Creative Copywriting & Content Solutions, Nerang. 
"Water damage causes a multitude of problems and can seriously damage the reputation of the establishment and the entire presentation of a property so early detection is an absolute must," Geoff Prior owner of Kitchen Doctor GP said at the National Property Managers Conference at Jupiter's Casino recently.
"At Kitchen Doctor GP we say-why replace it if you can repair it- and our motto is always- prevention is always better than the cure."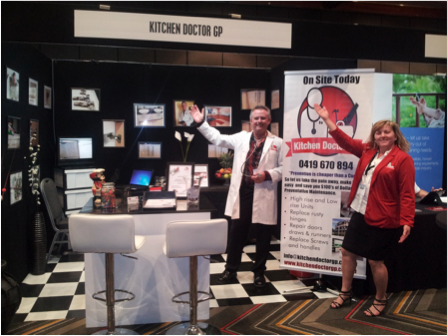 (On Left) Kitchen Doctor GP owners Dr Geoff and Nurse Jilly at the National Property Managers Conference at Jupiter's Casino recently
Property Managers from across Australia and New Zealand gathered to discuss the best strategies for managing property at the Property Managers Conference at Jupiter's on The Gold Coast recently.
Mr Prior stressed the importance of maintaining a property and how early intervention especially in wet areas such as the kitchen and bathroom can save property owners thousands.
Mr Prior urged property owners to attend to rust issues too as rusty hinges put a strain on doors and windows, can exacerbate wear and tear and can lead to expensive structural issues.
One Property owner and landlord said he learnt the hard way how important maintenance work is in preserving the health of his properties.

"I had to spend more time, energy and money than was necessary fixing what could have been a relatively cheap and simple problem, " he said.
"I should have invested $230 early and had a property health check before I brought my last property."
"I learnt a lot about property management this weekend and I am amazed at how many services are available to support property owners manage and maintain their properties".
Kitchen Doctor GP was a stand out at the National Property Managers Conference recently offering property managers a $230 tax deductible health check on their properties where the first 100 bookings went into the draw to win a weekend for two on the Whitsundays.
For more information on their services contact The Kitchen Doctor GP at info@kitchendoctorgp.com.au, phone Nurse Jilli on: 0408 723 057 or visit: kitchendoctorgp