Mobile Coffee Franchise Case Study: How Creative Copywriting & Content Solutions helped an Australian franchise icon with their coffee franchises. 
Today's case study is about one of Australia's and most successful franchises groups who added a mobile coffee franchise to their long list of franchises late in 2017.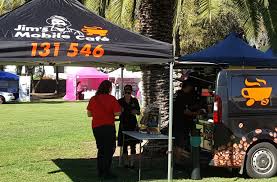 They were referred to us by a previous customer. Mobile Coffee Franchise Case Study
What were their challenge and outcomes? 
With so many mobile coffee franchises for people to choose from, the customer was finding it hard to get across to their prospects the benefits of their mobile coffee franchise delivered.
They required website copy and an electronic plus a handout or hardcopy version of their franchise information kit.
It needed to be clear, engaging and highlight the benefits for people interested in their mobile coffee franchise without being boring.
What did we suggest?
We suggested a plan that included a 6-page information kit and several pages of targeted, keyword enhanced website copy. We also wrote and designed a franchise information pack and threw in a new tagline to illustrate their passion & process for people interested in buying one of their mobile coffee franchises.
Phase 1 –

Research, research, research!
While we've written a lot of information kits and company profiles for a wide variety of businesses, our first step is always research. Whether it's looking at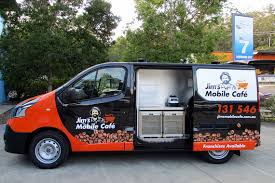 materials we have sent to previous clients for inspiration or researching all-new material, this helps us get into the right frame of mind for what we're writing and who the website copy and company profile was for.
It also helps us keep up to date on what the client might be thinking and what ideas they might have.
Phase 2 –

Write & mock-up information kit and company profile
Armed with all of our research, we began to write the franchise information kit. We wanted to present the franchise opportunity in the best way for the prospect and encourage future purchases of a franchise.
The client had given us several elements and subjects that they wanted included, so it was up to us to explore and present those subjects. The trick here was finding the right length for the information kit – including all of the information that was needed without being too long and therefore turning the prospect off.
On top of providing the copy for this project, we also went the extra step and gave the client a mock-up design of how their franchise information pack could look which the customer loved.
Phase 3 –

Write & mockup website copy and pages
Once that was underway, we set out to write the web pages needed by the client. The aim of this new copy was to inform and engage with their interested prospects in a clear and concise way.
There was also a lead magnet to prompt people interested in knowing more about the mobile coffee franchise to download an information kit.
Each of these pages featured the main headline to catch the scan readers eye and let them know exactly what page they're on. Also featured throughout were keywords that related to the subject of each page, which has helped with organic (non-paid) search engine rankings.
On top of that, we also featured a call to action at the bottom of each page to prompt prospects to find out more information and download the free information kit.
The reason for this is you never know which page people will land on when they type in a search. So having the contact details at the bottom of each page on their website makes it easy for people to contact them, irrespective of what page they are on the website.
Did everyone receive what they wanted?
Yes! The client was extremely happy with the website copywriting and the franchise information pack we wrote for them.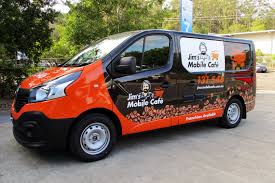 The customer gave us a whopping 7.5 out of ten, with the quality of our work being one of the things they liked about working with us.
They also liked the speed of turnaround working with us, which resulted in them being able to get their web copy up and live and their franchise information kit out fast, which made their life and business easier.
Our Final Thoughts On this mobile coffee franchise website copywriting and information pack Project
These projects were great fun for us here at Creative Copywriting & Content Solutions. We always love being able to help customers get their websites looking their best, increase their reach and brand, send the right message to the right people for our customers and ultimately the qualified leads they receive and their profits!
This Australian mobile coffee franchise and the customer were fantastic to work with! And there were a few reasons for that.
• One is the customer knew what they wanted but more importantly knew who they wanted to target.
• Two, they were goal orientated and marketing results-focused and this wasn't the first time they had done this.
• And three, they were open-minded, took action and took our advice on board as their projects came to life.
This was one of those projects that were not only fun to work and learn about it was one of the best website copywriting and franchise information

pack projects we carried out for a customer in 2017.
It's no secret that our passion and experience for copywriting and content writing has been crucial in getting many of our customers on the first page of Google and creating new and repeat sales for them since we started in 2003.
However, we're just as passionate about delivering you with as much value as possible… improving on the marketing results you're getting now and helping you save your time, money and energy to improve your life and businesses value.
Ph. 0412 288 339