E-Newsletter Tips and Techniques Creative Copywriting & Content Solutions, Nerang, Gold Coast. 
Frequently Asked Questions About Using E-Newsletters and Hardcopy Newsletters In Your Marketing
Hi there viewers & welcome the final episode on this months hot topic being all things e-newsletter tips and techniques!
Okay over the past month I've had lot's a great feedback, input and questions about this hot topic and as promised in this episode I answer just a few of the  questions the viewers, readers, subscribers and customers have sent in.
Q1.  "I'm an architect so I don't have a large turnover of clients because once people either build or renovate their home they won't do it again for quite a long time? Is it really worth me sending an email or hardcopy newsletter?" – Jessie Thorpe in Perth 
A. Great question Jessie I suppose you have to ask yourself though what is the LTV or Lifetime Value of that customer for you?
For me it's a no brainer. While I don't know your exact numbers, sending a e-newsletter monthly or even quarterly still puts you and your business in that customers mind so that's a good thing.
Hey chances are they may have friends thinking of renovating or building as well and by sending your e-newsletter monthly or at the very least each quarter (once every three months) you're always top of mind with that customer and keeping them informed about your business and industry.
Also providing people have had a great service experience with you they will refer you. The problem is they just forget to refer you if you are not in touch with them frequently. You got to stay top of mind and your e-zine, e-newsletter or hardcopy helps you achieve that.
Q2. Ronan asks, " Why use a 90-Day Editorial calendar?"
Because then you have a plan of action and system on what main topic and sub topics you are going to feature and discuss in your e-newsletter and you can write those sub topics in advance.
Plus with an editorial calendar you're giving your audience more information in smaller manageable chunks. This gives you more credibility with your audience and gives your marketing more traction instead of just sending a one off e-newsletter on one topic that people may never read and finally…
Most successful people work on the 90-day rule. They plan their short-term goals for the next 90-days. They test any new marketing for 90-days. If business is slow they'll go back over the last 90-days and so on and it also stops you making decisions on the fly.
Q3. Paul from Sydney (who is also a Jaffaman SME Marketing Club member) emailed me asking, "What are some of the email marketing software I can use for my e-newsletter?
A. Mate there's no shortage of email marketing software and most of them are pretty much the same. There's IContact and Aweber. Vision 6 and Mailchimp, which is free, I think as long as you only have 2,000 and under subscribers and maybe Infusionsoft even have one.
Some of these charge you a monthly subscription fee and some don't. Best bet is to Google Email Marketing Software, check out a few and go with what's best for you. Oh and most of them require no programming so they are really easy and user friendly.
Q4. Next! Cassandra of Dandenong South In Victoria says "Thanks for tip in last weeks episode Jaffaman about sending a electronic e-newsletter and then sending a hardcopy version later in the same month. I don't have a lot of money though so is it okay to send my newsletter in just black and white?"
A. Cassandra if you're happy with it go with it. Nothing wrong with a black and white newsletter in fact many of the great marketers newsletters are only in black and white only.
Anyway that wraps it up for this Hot Topic on All Things E-Newsletter Tips & Techniques. 
I hope you've found it useful and if you have a question about using newsletters in your marketing leave your question in the comments below and I'll get back to you.
In the meantime, stay cool, stay tuned, share this whomever you think can use it and market responsibly.
____________________________________________________________________________
Week  4 –  E-Newsletter Marketing System.
The system I use to increase my E-newsletter readership, social influence, leads and sales by as much as 30% In 90-Days And How YOU Can Do The Same.
Hi viewers, yes I'm back from holidays, caught some great surf at Redhead in NSW, caught up with my Mum, my sister and my family and I MC'd my nieces wedding and it all went off without a hitch.
But enough about me, this is about you so lets make some more money using your e-newsletter.
Unless you've been living under a rock this months Hot topic has been all about E-newsletter or E-zine marketing tips so if you missed any of those check out the videos and e-newsletter content below.
Next week I'll be doing a Q & A video on this Hot topic that people have sent in so don't be shy, drop me an email if you have a marketing with e-newsletter question and I'll either answer it personally or feature in in the Q&A video next week.
Okay let's get into it!
One of the biggest mistakes many of us in business make is thinking that when we send out a e-newsletter to our social networks, existing and previous customers and our prospects that they are all going to stop everything the second they receive it and read it instantly.
Wrong!! Even as a specialist direct response copywriter I know this isn't true.
People ARE NOT SITTING IN THEIR HOMES OR BUSINESSES WAITING TO RECEIVE & READ YOUR E-NEWSLETTER.
If your customers are anything like mine they are time poor and overrun with emails and distractions. At last count I think I had 2,349 unread emails sitting in my inbox, which I will probably never read.
Anyway if you really want to improve the readership, response, your social influence and your brand awareness using your e-newsletter here's a simple strategy I use with great success.
Step 1. Email your e-newsletter out in the first week of the month.
Step 2. In the 3rd week of that same month mail a hardcopy version of your e-newsletter to the same people.
That's right, this simple little technique has made me thousands in extra sales and the people I have shared it with and can do the same for you!
I think the reasons this is so powerful are:
#1. Not many businesses send a email version and a hardcopy version so in Dan Kennedy's words you "Show Up Like No-One Else." This is extremely powerful and it STANDS YOU OUT FROM YOUR COMPETITORS.
#2. Maybe when you first email your e-newsletter people skim read it and they mean to read it in full but never get back to it a because it gets lost in a sea of inbox emails? Mailing a hardcopy version of your newsletter in the 3rd week of the month eliminates this and is a great reminder, it shows you're prepared and that you've cared enough to go the extra distance to get the info into your prospects or customers hands plus…
#3. They can sit at their desk and read it in their own time and in hardcopy form it is much easier to read than reading a e-newsletter onscreen.
Now don't get caught up in the complications or put yourself behind the eight ball before you even get started by thinking "I have a database of 10,000 people, how am I supposed to mail that many people at once?"
Many business already mail 10,000, 20,000, 100,000 or more hardcopy newsletters to their customers and prospects so…
Like everything in life and business you do have choices.
Option #1. Don't mail anyone a hardcopy newsletter and keep sending your e-zine or e-newsletter once a month hoping it gets attention, hoping it gets opened, hoping it gets read and then if you're really lucky create a lead or sale. 
OPTION #2.  A better solution would be to mail a select segment or portion of your database. Instead of mailing all 10,000 mail a hardcopy newsletter to your existing and previous clients you have not heard from you in either a 3- month or 6 month period or…
OPTION #3. You could also mail a hardcopy newsletter to your AAA or V.I.P. customers (or another customer segment of your choice) for the next 3 months and see what the results are to determine if it is worth sending and testing a hardcopy version to your entire database.
Okay I got to go and so do you, but if you have any questions about e-zine or e-newsletter marketing drop me an email within the next few days because next week I'm doing a Q & A session on this topic from viewers like yourself.
Stay cool and stay tuned and remember start small, think big and feel free to share this with whomever you think could benefit from having it in their hot little hands.
____________________________________________________________________________
Week  3 – Jenny Asks "How Often Do I Email My E-Newsletter or E-zine?
Hi viewers. In this weeks direct response copywriting and marketing infotainment video I answer the question 'How Often Should You Email Your E-zine or E-Newsletter?" 
Here I am at Redhead beach NSW with this weeks Hot topic tip on e-newsletter and using newsletters in your marketing. My general rule of thumb is to email your e-newsletter at least once a month. This way YOU ARE NOT PUMMELLING your audience but staying 'top of mind' in your prospects, network and customers minds at least once a month.
Of course the purpose of my copywriting and marketing bulletin e-news blasts are to educate, entertain, inform and advise however the purpose of your e-zine may be different to mine. It may be your newsletter is solely sales driven although I do not recommend that strategy.
Anyway stay cool and stay tuned because on the next tip I'll show you a great technique on how you can improve the readership and sales from your marketing newsletters.
____________________________________________________________________________
Week 2 – Newsletter Marketing Tips.
Engage, Inform, Create Controversy and Entertain using your e-newsletter.
Hey there and welcome to the 2nd infotainment post of this months Jaffaman Journals hot topic being all things newsletter marketing.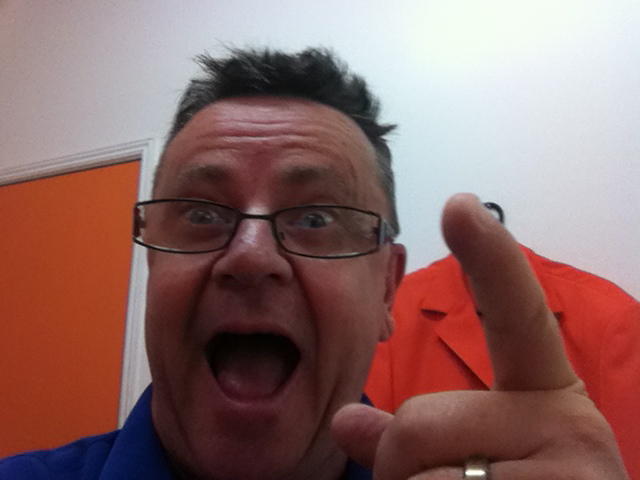 Okay I'm going to assume that you've already created your 90-Day editorial calendar right?
If you haven't done your 90-Day editorial calendar watch the previous video below first. Of course if you want to cut that corner and don't want to do the work that's up to you but success is in the details.
You know whether I'm at a networking event, presenting at an event… holding a copywriting session or meeting with a potential new customer the question may be worded differently but the contents the same…
I know I need a newsletter but what do I feature in it?
General rule of thumb, 80% of newsletter should be about your customer and 20% should be about you.
You want your e-newsletter or hardcopy newsletter to be entertaining, maybe a little controversial and informative okay? Leave the dull, impersonal big worded and boring newsletters to your competitors.
Okay well have a look over the list below and pick out what you'd like to feature in your next e-news or hardcopy newsletter. 
Newsletter articles and idea's to feature in your newsletter to engage, entertain and inform your reader…
• You can feature any latest updates or trends in your industry
• Why not feature a profile of one of your customers so your customers get to know each other a little more?
• What about asking people getting people to write or email you with a question they have so you can answer it for them and feature the answer in your next months newsletter
• You could mention any special business, social or community events you may be sponsoring
• You could feature the results of your surveys in your newsletters. (You do survey your customer's monthly right)?
• What about featuring what you have been up to over the past month
• You could sharing a little about what you have been struggling with (yes struggling with) over the past month. This makes you human, that's okay!!
• What about featuring a discussion on Linkedin that relates to something in your industry or would be of use to your customers?
• What about sharing a recipe, gardening tip or upcoming holiday plans
• Perhaps you could include a brainteaser or quiz or a Did You Know section
• Share a goal that you maybe have for the month and get them to join in
• Create a contest and giveaway a prize (it does not have to relate to you or your business)
• Feature a Case Study and loads more…
Okay what about the 20% about you?
• Feature a small column on staff promotions or changes
• Mention any V.I.P. or other special events or offers coming up
• Mention your referral program (You do have a referral program right)?
• Do a "Meet a Member staff member profile" column
• Include testimonials
• And don't forget the call to action so they take the desired action you want them to take.
Okay well that should help you out and don't forget to comment and share the love and education with people you think could use this info to their advantage as well.
____________________________________________________________________________
Personality Marketing Business Brunch Update… SOLD OUT! 
What's the "Marketing Weapon" Richard Branson, Oprah, Donald Trump And Others Taught Me To Get Me Noticed & Make Me More Money That 98% Of People In Marketing, Sales & Businesses Will Never Embrace?
You know what I'm talking about!
You, your business, your profits and even your lifestyle are suffering from SAME-AS-IT-IS lost in a sea of Marketing and business sameness.
Which is why I wanted to thank everyone for their awesome response and for those people who have booked their ticket to my Personality Marketing business brunch on the Gold Coast on April 11th. If you missed the personality marketing Hot Topic tips and sessions check them out here.
P.S. Stay tuned too because the next Jaffaman Journal Hot topic update due out next week will be about…
how often do you send your newsletter out and I'll also answer a few questions that people have sent in to me as well about newsletter marketing.
____________________________________________________________________________
Week 1 – Newsletter Marketing.
Was He Right For Undies And Socks?
I just got out of a meeting with a good friend, mentor and client of mine. Basically he called me last week in a panic, came around pushed me into a corner, slapped me across the face and refused me food and water until I helped him with his sales copywriting, marketing and business challenges.
Mind you I was going to ask him if he was right for undies and socks as well but hey we're good mates on and off the field!
This isn't the first time my clients, copywriting students, marketing club members and people I mentor have hit me up about this topic either.
So in this months March Jaffaman Journals I'll be sharing all things e-newsletter marketing, newsletter content, hardcopy newsletters and some of my closest guarded planning and back-end newsletter marketing strategies with you I've never really shared before.
And keep visiting this page because throughout March I'll be updating this page and content each week with more easy action newsletter marketing tips and strategies.
Episode #1. Okay let's dive in and you can apply this info to e-newsletters and hardcopy newsletters.
Q. What's the BIGGEST question people have about sending out their newsletter in general
Drum roll please….
A. What content or what are they supposed to write about in their newsletters?
Q. What's their biggest hang up?
A. They worry about what will their customers think.
My view for what's it worth… human beings love to over-think and complicate things. Whether it's about losing weight, giving up smoking or what to feature in their newsletters we all have a tendency to make it more complicated than it really is.
And that's cool. We when try something new we all experience those thoughts and feelings of uncertainty, doubt and what others will think of us but you and I have to put those fears aside and get on with it RIGHT?
So my first piece of action advice for you today is "Just get in the game today." Read the rest of this blog and get in the game today because any action is better no than action at all.
Now for this copywriting and marketing blog and infotainment session I'm going back to basics so we're working on the premise that you've sent out a newsletter here and there or never sent out a newsletter ever before.
So where do you start with your e-news or hardcopy newsletter?
Well you could start writing it right now but that's really a 'band aid solution' so how about this for a better idea?
____________________________________________________________________________
Start here with step 1 which is….
"Create a 90-day editorial calendar and marketing system."
A 90-day editorial calendar gives you direction, a plan and a theme with sub topics for each month's newsletter that you are going to write about and the advantages are huge!!
Below is my very own live editorial calendar and system for you to see, swipe and get your idea's from.
As you can tell, Februarys main theme below was the good, the bad and ugly of personality marketing and you can see the 4 sub topics (one per week) about personality marketing I wrote and blogged about. You can get all that personality marketing info here
____________________________________________________________________________
February 2013
Main Theme – The Good, The Bad & Ugly Of Personality Marketing
• 4 Sub topics once a week over one month to database
• 2 posts a week social media
Sub topics were
Week 1 – What is Personality Marketing?
Week 2 – Three Personality marketing tips anyone can use to stand out from the herd?
Week 3 – Adding personality to your marketing
Week 4 – Why most marketing fails and goes unnoticed
____________________________________________________________________________
March 2013
Main Theme – Newsletter marketing
• 4 Sub topics once a month to database
• 2 posts a week social media
 Sub topics are
Week 1 – The basics to e-newsletter marketing- creating an editorial calendar
Week 2 – What to put in your newsletters for maximum readership, return and emotional engagement
Week 3 – Tips to improve any newsletter
Week 4 – E-newsletters versus hardcopy newsletters… you be the judge!
____________________________________________________________________________
April – you get the general idea.
The beauty and benefits of the 90-Day editorial calendar is you're no longer guessing what you are going to feature in your future newsletters.
This means you have a plan… you can write your newsletter articles in advance so writing your newsletter is faster and easier and you end up being pro-active and organised instead of being reactive and scratching your head freaking out saying to yourself "Oh what am I going to put in it?"
Oh and don't tie yourself into thinking you can't change your editorial calendar. Of course you can change it's yours and in business as in life things change!!
Also here's last months update on how other Small Business Owners are gaining the confidence to execute & expand their businesses, income & lifestyle with me as well that may be of use to you and…
Stay tuned and stay cool because next week I'll give you some awesome ideas on what newsletter content and information to feature in your e-newsletter and hardcopy newsletters for maximum readership, return, newsletter sales and emotional engagement.
Cheers and don't forget to share this with whomever you think could use it and I'd love to hear your thoughts below.
Jaffaman Eddie
Check out what Jessica, Neil And Francis have been up to lately
"Results are coming in thick n fast and you're helping me BIGTIME. Love getting new marketing idea's… business growth inspiration tactics… sales copywriting guidance and making more money using your marketing promotions and templates. Keep the monthly promotions coming but leave the $27.40 membership alone." – Jessica Winters, Online at home business owner
"I love having someone with Jaffaman Eddie's copywriting and marketing expertise helping me build my business for about 92 cents a day.
"I don't have to do any time-intensive marketing or copywriting study or courses and I don't have the money to pay for them anyway! I also like being a member because it's cheap, quick and easy. I get one marketing promotion a month off Eddie that I just edit and tweak myself to fit into my marketing needs without having to pay Eddies normal rates for direct response copywriting but more importantly I am getting better returns on my marketing now than I ever have before and I get to learn about heaps about marketing and copywriting off Jaffaman. It's a great little membership and money well spent." – Neil Savage, Online E-bay Solopreneur & Real Estate Makeover Consultant, Sydney.