By: Brodie, Second in Command
Creative Copywriting & Content Solutions, Gold Coast
Ph: 0412 288 339
Copywriting & Marketing Jargon. When it comes to writing your own copy or even working with content and copywriters, sometimes it can be hard to understand the terms being thrown around so today we're going to cover some of the Copywriting & Marketing Jargon.
To get the best out of your content, copy and the service you receive, you need to know what's being said. That's why I've compiled a list of 12 common pieces of copywriting jargon to help you cut through the clutter.
Above The Fold
This term originated in print, referring to the part of the newspaper 'above the fold' that people would see first.
Now it also refers to the part of a webpage that first appears on screen before you need to scroll down. One of the most important sections as it's the copy your prospect will read first.
To make it even more challenging, don't forget to take into account that a large majority of people will also do a search and come to your website via their smartphone. As you know, they have a much smaller screen than your laptop or desktop computer so what you put above the fold on your website is crucial.
Auto Responder
An autoresponder can be sent individually or in a series, usually, as a follow up to an initial enquiry. They're an automatic email response sent in an allotted period of time to build trust, credibility and a relationship with new enquiries. The goal is to convert new prospects into a customer, have them download an e-magnet like an e-book or take advantage of a special offer you may have.
Back-End Marketing
Back-end marketing (also known as relationship marketing, among other terms) refers to marketing for customers who have purchased your products or services previously. An example of a back-end marketing piece or strategy could be a monthly e-newsletter with a clients-only special offer.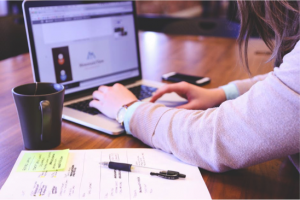 Front-End Marketing
Is also known as customer acquisition and is marketing strategies to create new leads, sales and customers for your products or services.
One example of a front-end marketing strategy would be to feature or have a lead magnet, such as an e-book, on Facebook and target your hottest prospects. They see your ad, they opt in by leaving their name and email address and they automatically receive a copy of your e-book.
Call To Action
A call to action is a sentence or two of copy that prompts your prospect to the take action you want them to take – call you, sign up for your newsletter, whatever you like.
Direct response copywriting
'Direct response' refers to the kind of copywriting that speaks directly to the prospect to prompt a response.
This is done in many ways and can include using a problem solution headline, writing conversationally and talking in terms of benefits and outcomes for the prospect.
Keywords
Keywords are the main terms about your product or service that are seen by search engines. For example, one of the main keywords for an accounting business would be 'accounting', but there are also secondary keywords such as 'financial planning', 'tax services', and so on.
Keyword should be used in the headline of any copy, a secondary keyword should be used in the lead sentence and in the last 100 words to gain favour with search engines.
Lead Sentence
The lead sentence is the first sentence of your copy. It should be interesting, engaging, and pull your prospect in to want to continue reading. It should also include your main keyword (at the very least, others if possible) to gain search engine traction.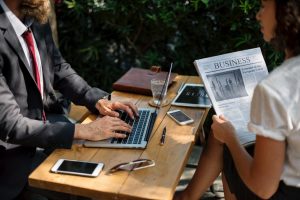 Lead Magnet
A lead magnet is a piece of material (a fact-sheet, an e-book, a video, a competition draw, so on) that pulls in qualified prospects and encourages them to leave their details in exchange for the information you're providing.
Opt-In
An opt-in is a form on a website where prospects leave their details (often in exchange for a lead magnet, such as an e-book) that are then added to a database so that they can be followed up at a later date. Can be in the form of a pop-up, a slide-out menu, or a permanent signup field.
Search Engine Optimisation – SEO
SEO, or search engine optimisation, is the act of increasing your online visibility and search engine results through various organic or unpaid means. This includes using keywords, constantly updating content, and so on.
USP
Your USP or unique selling point (sometimes unique selling proposition) is the point about your business that makes you different from all the rest – possibly a specialisation or something similar.
Prospects should be well aware of your USP early on in any copy and be aware as to why your USP is a benefit to them.
So there you go! A few key copywriting, content writing and marketing jargon phrases broken down to help you get your bearings when talking to copywriters or to help you when looking at your own copy.
Being able to use and understand these common phrases will make it easier for you not only to hire a copywriter but to understand what they're talking about and recommending and how it will benefit your business!
Over To You
Know any other unique pieces of copywriting or marketing jargon? Share them below.
Did You Like This Post?
If you liked this post on "Copywriting Jargon Made Easy" and they helped make things a bit clearer, make sure to share this blog on Facebook, LinkedIn, Google Plus, and to anyone you know so we can all benefit and build better businesses.
Thanks again and if you have questions about copywriting jargon, just give us a call on 0412 288 339 or drop us an email.
About Creative Copywriting & Content Solutions
It's no secret that our passion and experience for copywriting and content writing has been crucial in getting many of our customers on the first page of Google and creating new and repeat sales for them since we started in 2003.
However, we're just as passionate about delivering you with as much value as possible… improving on the marketing results you're getting now and helping you save your time, money and energy to improve your life and businesses value.
Ph: 0412 288 339