Awesome Foursome Preferred Customer Pre Release Notice
Jaffaman Eddie adds another feather to the Eddie Groups bow with the pre-launch release of the Awesome Foursome for preferred customers only…
Hi real quick.
You and I both know in business, there are critical areas of marketing every business must have in place.
You and I also know that business owners are also locked out for any number of reasons on getting those things in place.
So before the official release of the Awesome Foursome pack  I wanted to let you know that I'm giving away a handful of these to preferred customers like you for next to nothing!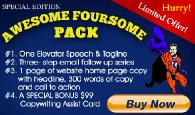 That means you get
• One elevator pitch and tagline
• A three step follow up email series
• One page of website home page copy and
• A Special Bonus Copywriting Assist Card valued at $99 which you can use to get me to edit and improve other marketing you have for under $400.
Yep, under $400 bucks well $363 + GST but it will more than double in price late February.
The rules
1. Once you've bought your pack you have to give me 15 minutes on the phone so I can find out more about you, your business and prospects before I write your web copy
2. You have to proofread and edit the copy I send you yourself
3. You get one round of text revisions
4. If you don't want a Awesome Foursome but have a customer you think could use it I'll give to them for the same price in your place providing you think they can work with me and they mention your name.
5. Payment is required in full and upfront by credit card below or invoice.
Normally you'd pay $363 + GST just for the website home page copy and tag-line alone but not this time.
Like I said…
The official release on my website is approaching faster than superman on steroids and I'm only giving away a handful of these at this price. Get yourself locked in and sorted before the official launch and the price rise because in four days this page and offer is history.
Thanks again
Jaffaman Eddie
*This offer is only available to past and existing clients (or people they  refer) who have used any of the "Eddie Group" services over the past 11 years. Jaffaman Eddie and the Eddie Group refer the right to refuse this offer to any person they choose as they see fit.


Our story – The "Eddie" Group is a dominant lean and mean results focused online and offline Copywriting and Marketing Centre and one of Australia's most trusted brands. We help Entrepreneurs, Franchises and business owners build better businesses and incomes by eliminating their marketing waste through online and offline direct response copywriting and marketing.
In addition we provide copywriting and marketing coaching, off the shelf and customised marketing systems, copywriting and marketing information products and personal branding services using tried, tested and proven copywriting and marketing principles for the new economy.