8 Benefits Of Using A Copywriter For Your Business.
It's a big question to answer with so many different copywriters and services touting all types of promises these days.
First, it depends on where and how big or small your business is. It also depends on what you are trying to achieve, your time and if you have any proven experience and results in writing sales copy for online and offline marketing before.
It also depends on whether you are going to use a local copywriter, someone interstate or a copywriter offshore and more. Sorry about that.
The good news is what we can share the 8 benefits of using a copywriter for your business that our clients have told us they love!
1.

Hiring An Outside Copywriter Means Quicker Turnaround For Your Business
Why? Because you won't have to assign the copywriting duty to a staff member who already has his or her other tasks to perform. It frees up time because it eliminates the strain on staff and business resources.
2.

Level Of Experience
Using a staff member to write your copy means that staff member may not have the same level of copywriting experience, focus or views an outside copywriter.
3.

Objectivity 
A skilled copywriter will be able to offer you truthful objectivity from a consumer point of view that many businesses fail to recognise. Marketing is not about you; it's about getting your audience's attention and getting them to take the desired action you want them to take.
4.

Honesty With Zero Office Politics 
Hiring an outside copywriter means there are no office politics. It creates an open and honest forum where criticism is easier to give than if it were a staff member.
Eddies work is fast and efficient. He keeps to agreed deadlines with a good result. These are important to me!
5.

Helps Speed Up The Graphic Design Process 
A vast majority of copywriters also have design experience. That's not to say they are graphic designers, but they do have a picture in their mind, and some will supply a black & white mapped-out layout of how the finished design or project could look for your review. This can help speed up the process for you from copywriting to graphic design stages.
6. 

We're All Equal; However, You Don't Go To A Lawyer For Heart Surgery
All of us can write, however, writing headlines that attract people's attention, copy that engages the reader and tells people what to do with a call to action is a different set of skills than writing an email.
After all, you don't go to a G.P. for heart surgery, so why not entrust your marketing copy with someone who writes sales copy every day to achieve a better result service, sales content and overall outcome.
We have engaged Creative Solutions to provide copywriting services to ensure that our marketing message to our clients is accurate and meaningful. We are thrilled with Creative Solutions and with Eddie in particular. We have no hesitation in recommending their services.
7.

Get What You Want
Some copywriters specialise in specific fields such as the Health industry and those who are generalists. There is also confusion about what a copywriter is. For example, A journalist is not a copywriter. They are a writer that's reporting or giving an opinion based on facts they have received.
Unfortunately, most businesses copywriters are also the person manning reception. So copywriting is done when they can get to it. And while business owners have the best intentions they are usually to time-poor to give it the attention it deserves. This results in businesses copying their official brochure copy on to their website with poor search engine rankings and results for several reasons.
8.

Avoid Magic Bullets
Avoid any copywriter that says money is going to fall from the sky and that they can solve all your problems.
Copywriters cannot control the world's economy, people's buying habits, watch over your marketing processes or guarantee results, as there are variables in life and business no-one can control.
Orange Eddie transformed my homepage for the better. I won a prize with Eddie at the Executive Alliance. I was delighted with the outcome with Eddie facilitating a workgroup session to 'Tear my Home Page apart" in front of a live audience. Ultimately, Eddie made the changes,  I love it and it works. One of our new customers was in the workshop, and we signed them up next week. Of course, we had to deliver on our promises that are spelt out on our home page. AND WE HAVE.
Our passion for copywriting and content writing is our greatest strength and has carried us through since we started back in 2003. Without it, we'd have a much harder getting our customers on the first page of Google and delivering fantastic content into their hands.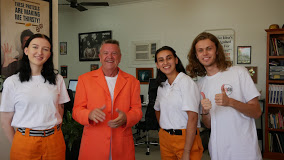 We'd like to pass some of that passion onto you and your business so you can increase your marketing returns, generate engagement on social media and your marketing conversation rates to improve your life, profits and businesses value.
Plus we're the only copywriting and content writing service we know of that gives you a 100% money-back guarantee so call us now, you'll be thrilled you did. 
Phone: 0412 288 339