What Clients Say About Creative Copywriting & Content Solutions 
With over 16 years of experience serving Australian businesses, franchises and entrepreneurs with copywriting and content writing, Creative Copywriting testimonials speak for themselves.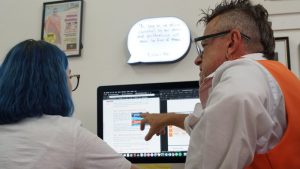 Our Philosophy
At Creative Copywriting & Content Solutions, our philosophy is to:
Be in partnership and connection with you.

Improve on the results you're getting now.

Eliminate marketing waste for your business.

Provide you with 100% Australian copywriters & content writers for your Australian business.

Deliver direct response copywriting, content and marketing strategies based on sound principles.

And bring new and repeat customers to your business long after your initial investment.
Tailor Made Copywriting, Content Writing & Marketing Solutions
Every one of our customers is different and unique. Any and every copywriting and marketing solution you receive from us will be completely individual to your businesses specific needs, wants, and business goals. Whether you run a small business and need some website copy, a medium sized business looking to improve your marketing spend, or a national corporation that requires a company profile – we're here to serve you. 
Over the years we've with a massive range of different industries and businesses too. Despite this, when you read some of our client reviews, you'll probably find that you have one or two things in common with all of them.
For example, our customers are all hungry to stand out from the crowd.
Secondly, our customers understand that marketing for their business is an investment and that copywriting and content writing is a specialist skill. 
Create Results With Your Marketing Message
While most of our customers know what they want to say in their marketing, many do not know how to say it or write it effectively to create successful results.
This is where Creative Copywriting & Content Solutions come in.
Copywriter Testimonials or Contact Us For A Referee
Please take a closer look at some of our content writing, copywriting and marketing testimonials from our customers. Alternatively please call us and we'll give you a few client's contact details so you can speak with them yourself.
You can reach us at Creative Copywriting & Content Solutions on 0412 288 339
Since 2003, we've served such a huge number of clients from many different industries. So to see some of our client testimonials, simply choose the industry that's the most relevant to your business below and you'll be sent to the testimonial or review page. Choose from:
Please Call For A Chat about our copywriting and content writing services today. 
Knowing who and what is real on the Internet these days isn't easy. 
So the best way to find out more about us is to pick up the phone and give us a call on 0412 288 339. This way you can find out more about our services, about us and the team as well as our 'Love Your Sales Copy Guarantee" and why Creative Copywriting & Content Solutions is one of Australia's leading copywriting, content writing and marketing services.
Of course, you can always complete the contact form below and contact us this way too.
Jaffaman Eddie & the team,
Commander In Chief T.G.I.C.
Creative Copywriting & Content Solutions
Powered by Eddie's Enterprises
Ph: 0412 288 339
Head Office address – Level 1, 18 Brendan Drive, Nerang, Qld 4211 Australia