Video Script Copywriting Services
Engage, connect & entertain with video-script-copywriting from Creative Copywriting.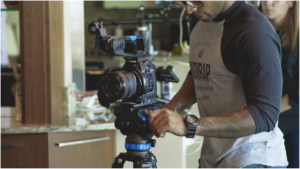 Getting and holding people's attention.
It's a tough gig for most of in business today.
But it's not impossible.
Which is why start-ups, small businesses and franchises use video-script-copywriting from Creative Copywriting.
With our help your video will engage people and deliver your core message fast!
It will also give your business, products or service personality, help slice you through the marketing noise and clutter and increase your social reach and influence.
Plus you also receive:
• A video script written by Australian copywriters for Australian businesses – We're 100% Australian owned and operated. Our in-house team of marketing results-focused video script copywriters write your video script. Nothing is outsourced!
• Money Back Guarantee – You also receive our 'Love Your Sales Copy Guarantee' so you can try us out and get your money back if it does not work out.
• One point of contact – If you're anything like previous customers we've written video scripts for, you're flat out running your own business.
You're also probably short on time and have enough to do which is why you have one point of contact instead of being shuffled around from department to department which can happen with other video script writing services.
Find out more about our video-script-copywriting today.
While we've been writing video scripts for businesses for just on 16 years there is a lot to discover first. 
So whatever your video-script-copywriting idea or project is please email us or you can text or call us on 0412 288 339.
You can also Check out our own social platforms to see what we've got rockin'. Head to Facebook, Instagram, LinkedIn, Youtube and Google My Business. 
Best wishes,
Meet Patel & the team,
Creative Copywriting & Content Solutions
Ph: 0412 288 339
Head Office Address – Level 1, 18 Brendan Drive, Nerang, Qld 4211 Australia