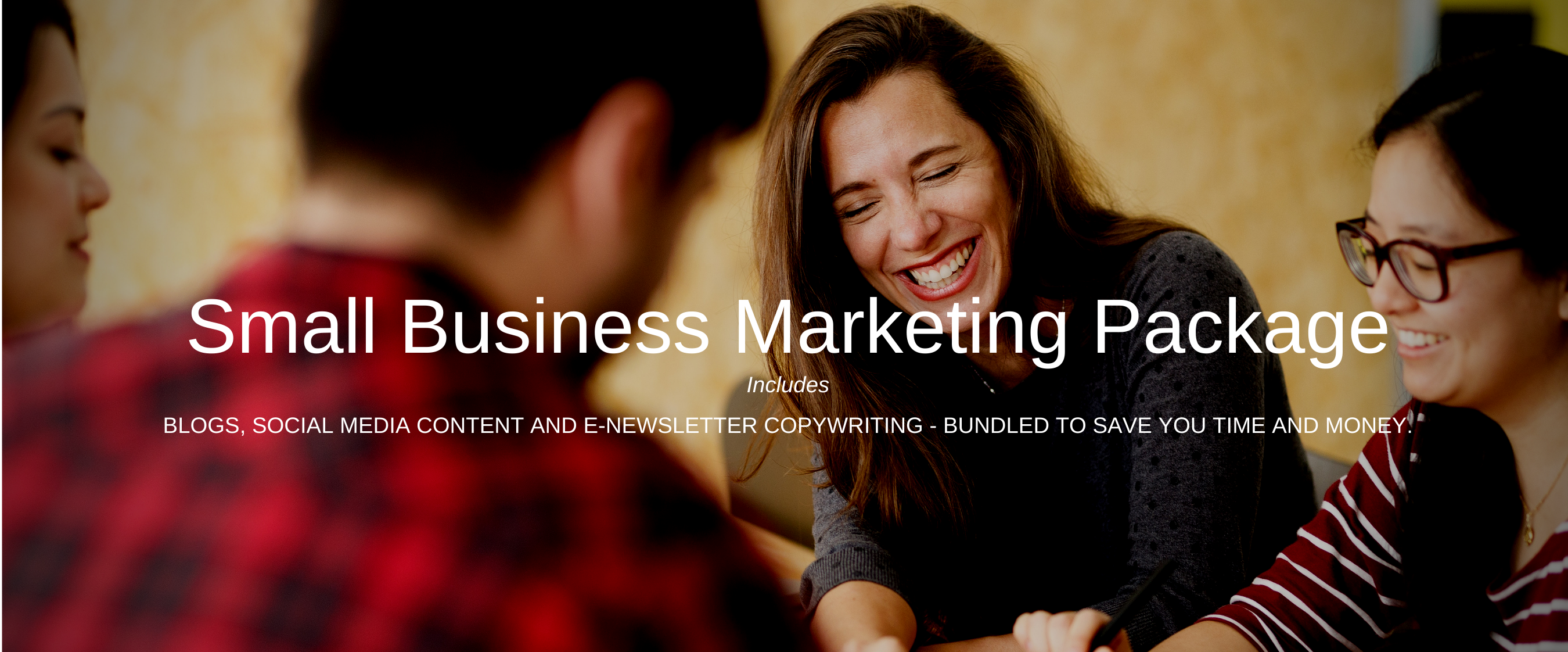 Small Business Marketing Package
Small Business Marketing | Creative Copywriting & Content Solutions | 2021
It's understandable – marketing your small business just isn't easy. Especially when you're doing everything all on your own.
I remember when I started how hard it was to market a small business. It was impossible to find the time, along with everything else I had to do. I know you can relate.
That's why we created our Small Business Marketing Package for Australian businesses.
Many of our small business customers use this monthly package service to help complete the marketing puzzle. 

What a team!! Thank you so much guys in helping us get our business off the ground & landing on 1st Page of Google within a couple of months. We are super excited having you on board and look forward to many years of cooperation 
Small Business Marketing Package
Blogs, Social Media Content and E-Newsletter Copywriting
This service is ideal for Australian small business owners who want to kick their marketing up a notch, but lack the time or know-how to do so. You do what you do best, while we handle the rest. 

Small Business Marketing Package Includes:

• 1 x 600- 800 word SEO friendly blog written and supplied per month
• Social Media Copywriting, Design and Posting  – 1 posts per week, on 1 platform of your choosing. (Facebook, Twitter, Instagram or Linkedin). Content is specifically curated for the social networks of your choosing.
• 1 x E-newsletter Written per month (where we provide you written content for your e-newsletter.) 

• Plus FREE added extras

FREE STUFF includes mentions in our social media and e-newsletter.

T'S&C'S apply.

Want it custom?

 Let us know what you'd like included – we'll tailor-make a package made just for you.
Why our "Small Business Marketing Package" is for YOU.
Well – chances are you don't have time for content writing or the proper resources to market your business consistently.
So, with our Small Business Marketing Package, you'll be saving time, energy and money and more – woohoo!
PLUS….
• You'll help drive organic traffic to your website,
• be marketing your business consistently through multiple platforms
• and have your own personal 'marketing mind' copywriter & content writing service by your side- without having to pay a full-time marketing staff salary.
By combining a range of copywriting, marketing and blogging services together in one monthly package, you'll save money, have consistent marketing, and have e-newsletters and articles written and posted on your website – hassle-free. 
With YOUR choice of articles per month, FREE added extras, and many other values, we've been creating organic traffic for Australian companies with great success for over 16 years.
Got more questions? Contact us on the form below.
Creative Copywriting & Content Solutions has provided great content for my web site, advertising material and social media. Eddie is a pleasure to work with and provides excellent advice. I look forward to working with Creative into the future and I am excited to see what they come up with next. I would highly recommend getting in there to see Eddie and his team work their magic.
A Fraction Of The Cost Of Other Small Business Marketing Packages
Our packages save Australian small businesses time, money and energy.
If you'd like to know more about generating increased organic traffic to your website, more significant market share and to be top of mind with new and repeat customers call us on 0412 288 339 for more information about Creative Copywriting & Content Solutions small business marketing bundles today. Contact us 
Payment Details: How It Works
Payment: BSB or credit card charged monthly. GST added at time of invoicing.
Please Note* – All services provided are carried out by Creative Copywriting & Content Solutions staff here in Australia.
* We're here to serve which is why all services can be tailored to suit you, your budget and needs in most cases.
And don't forget to check out our own social platforms to see what we've got rockin'. Head to Facebook, Instagram, LinkedIn, Youtube and Google My Business.  
Meet Patel & the team,
Creative Copywriting & Content Solutions

Ph: 0412 288 339
Head Office Address – Level 1, 18 Brendan Drive, Nerang, Qld 4211 Australia
Contact Creative Copywriting Today