Meet the Creative Copywriting Crew 
It's not the industry norm, but we like you to get to know and meet the Creative Copywriting Crew so you feel like a part of our family.
After all, we're a family business owned and operated since 2003.
Some people say business isn't personal but for us it is.
Part of why other services have come and gone is because of a lack of personal service. To serve you to the best of our ability we need to connect. This way we can learn more about you, your goals and your business. For us, personal service, transparency and making you feel welcome is essential. 
So below you'll meet just some of the Creative Copywriting Crew who are ready, willing and able to serve you with anything you need!
The Creative Copywriting Crew also includes a few other Australian freelance copywriters, videographers and others in specialist fields. 
From copywriting to content writing to Done For You social media marketing services to email marketing…
If it has anything to do with words and marketing, the Creative Copywriting Crew have every word you need, for all the marketing you have.
If you'd like to know more about us please give us a call or text on 0412 288 339 or email us at Creative Copywriting and Content Solutions to find out more about how we've been igniting words into money for businesses all over Australia with a love your sales copy guarantee since 2003.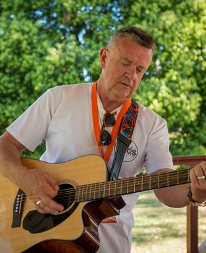 Jaffaman Eddie Bryant
Commander In Chief
It's a bird, it's a plane… No, it's Jaffa man! Meet Eddie, Commander In Chief. Sharing his writing wisdom and 17 years of business building – he's the imaginative mind that makes us what we are today. There's never a dull moment with Jaffa man Eddie.
If there's a chance for a joke to be made, you can bet that he'll never miss a beat to deliver that punchline! You'll find Eddie rocking his orange suit, writing copy for all kinds of businesses, chatting with clients, and complaining about his cold coffee (when he's not busy playing tunes on his guitar or singing his heart out).
Eddie is an excellent asset to our clients and a wonderful mentor to us  – and that's only scratching the surface of his likeable qualities.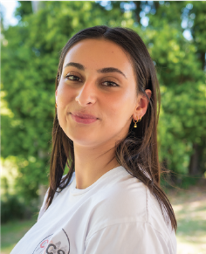 Yasmin De Vries
Engine Room Officer
With a knack for writing words that sell, WordPress and production management, belly laughing and so much more, Yasmin is just one of our dedicated, enthusiastic Jaffamites with a killer work attitude and ethic to match!
Rain or hail, sleet or snow, nothing can slow Yasmin down. She's across everything making sure our fearless leader Jaffaman Eddie and us other Jaffa-mites bring our A-game.
She's a big part of the glue that keeps the Creative Copywriting & Content Solutions family and clients sticking together and when she's not writing, coordinating or laughing she likes beautiful gardens, her mum, drinking tea, and the sun in the morning.
Jessie Curtis
Creative Director
Jessie came to us as part of our reach one teach one campaign through a job internship. That was almost two years ago and since then she's come a long way!
These days she rockin it as our Creative Director and responsible for all our online and offline design which includes social media. But at Creative Copywriting there are no such things as job descriptions. Jessie's also involved in project production, editing, copywriting and all things alike that Jaffaman and our wonderful clients throw at us.
With a passion for design, life and serving people there's always a touch of her creative flair in every system, post and copy she produces.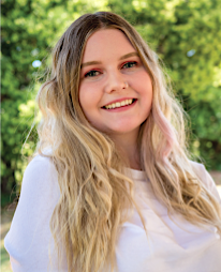 Katie King
Social Media Manager
Meet our newest crew member!
Katie came to us through a voluntary internship, helping out with the social media side of things and quickly impressed all of us at Creative Copywriting & Content Solutions!
Now, she's our own certified Social Media Manager and is always finding new ways to deliver content and boost engagement. But that's not all- she's well on her way to learning how to write killer marketing pieces, blogs and more. She's also the co-founder of our Facebook group 'The Business Circle'.
Bringing her A-game every day, she knows how to get things done and have fun in the process.
Contact Creative Copywriting Today